It was not long ago that learning how to play a musical instrument, including the guitar and piano, took many lessons and years of practice.
Today, thanks to the internet and new methods of teaching, it's now possible to learn a musical instrument and become proficient in a much shorter time frame.
The Yousician review promises to help you learn and master certain musical instruments on your own time.
But does it really live up to the hype? If you're looking for singing lesson check out the banner below for 30 days singer!

---
Here's Our Thought
What is Yousician?

This is an app that you download to your mobile device, register, and choose the type of musical instrument that you want to learn.
You can choose from several instruments and switch your preferences as you desire.
The app itself is relatively easy to follow with simple, straightforward instructions that help you get started.
You are asked to enter your current skill level, ranging from not having any knowledge of how to play up to proficient.
From there, the app will start you off with something that you are comfortable playing.
For example, if you choose the guitar, you may begin with some simple strumming, basic chords, up or down picking, and so forth.
The app itself works by listening to your playing, so be sure you are in a quiet room, and tune the instrument so that the app itself can work properly.
Once you are set, the app will run through a series of singing lessons online designed to help you learn as you play.
You can move at your own pace and you will probably need to make some early adjustments to ensure that the app is working for you.
As you progress, you can play along to some famous songs, find new tasks to perform and play practice chords to get you going in the right direction.
The practice aspect is where the app really shines thanks to its step-by-step approach and easy to use interface.
One program displays the chords and when a white ball hovers over one you play it.
The visualization is not unlike the old-fashioned sing-alongs that used a bouncing white ball to indicate which word to sing.
---
Is Yousician Premium Plan Worth It?
This is where I would say No!
There are numerous advantages to the Yousician app, starting with the fact that the basic version is free.
The good news about free is that you are not out any money.
So, the worst thing that can happen is that you only wasted your time if you are dissatisfied with the results.
However, there is a premium service that you might want to pay for depending on how impressed you are with the free version.
If you choose the premium plan, you can select from four different instruments;
You can pay monthly or yearly for a single plan covering one instrument or all four instruments for a yearly fee.
You can upgrade your plan whenever you want, which can be helpful if you want to master another instrument.
The addition of new songs and greater flexibility is certainly a vast improvement over the free version.
For many who have used this app, they have noted the excellent features and robust system of learning that makes it one of the better apps on the market.
It should be noted that paying for the subscription one year at a time as opposed to monthly is slightly less expensive.
However, you might want to consider paying for the first month to see if the program really works for you and then annually if you decide to go forward.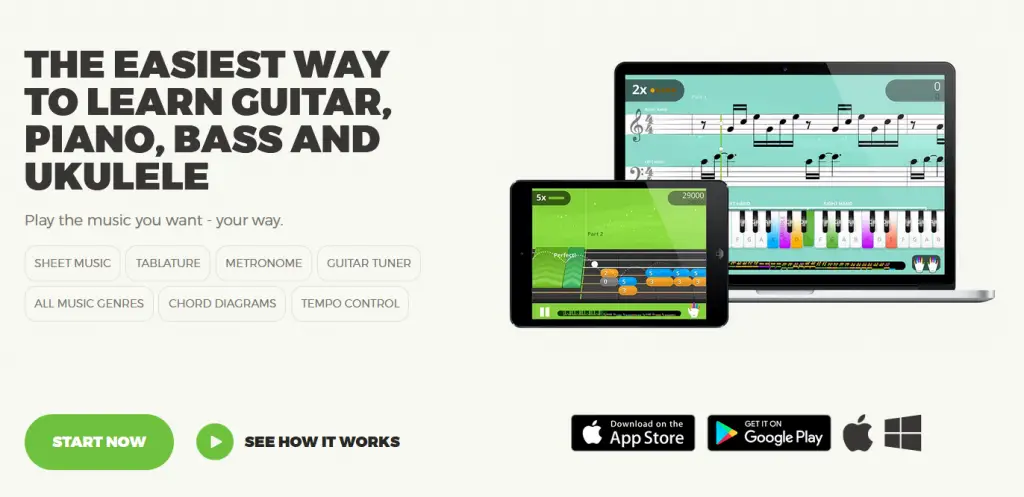 ---
Yousician Teaching
For those who teach music, Yousician may be an excellent way to help your students improve on their own time or incorporate the app into your lessons.
Yousician offers a special rate for teachers, which means that you can have your students benefit from the app while working with them to improve their skill levels.
First and foremost, it makes learning enjoyable and helps to downplay the repetition of chords and other training techniques that while excellent in effect, may drag down interest in the student.
Plus, the app helps to build up skills that they can use in the real world, which includes those who demonstrate enough talent to expand their career in the music field.
It also helps that the app lets you teach on your terms, incorporating the lessons on your time table for maximum effect.
---
Is the Yousician Premium Version Worth the Payment?
The answer will depend in large part on how you are impressed by the free version.
What can be said is that the premium version does offer considerably more songs, videos and tutorials.
Which makes it far more enjoyable compared to the admittedly limited free version, which is really designed to see if you are interested in how the basics of the program work.
The benefits of going premium include adding many different songs, new tutorials, and overall broadening of what is offered compared to the free version.
In addition, you can upload your own songs for even greater interaction with the app.
Another positive is that you can cancel your subscription at any time.



Of course, that means you have to pay up front, but at least you get to choose when to leave.
You will want to compare the price to other, similar apps to make the best-informed decision.
But it must be said that for what Yousician offers it is an excellent deal.
The ability to choose from four popular instruments, play at your own pace, and have good interaction to help you improve are positives that few other apps can touch.
About the only downside is that while Yousician is quite extensive, there are other apps which focus on one instrument that may offer more songs and detailed instructions.
Honestly, if you are at all impressed by the free version, then you should go ahead and move to the premium version.
If only because the tutorials and visual aids are so good in helping you learn a musical instrument.
While not as good compared to having a human instructor, Yousician review is about as close as you can get.
s yousician yousician reviews yousician's yousician-review